I think I read part of what would become Don't Touch when I first met Rachel Wilson at Vermont College of Fine Arts. I seem to recall that there was a dolphin in it at the time. Anyway, Rachel was a worldly and impressive upperclasswoman. I was always struck by her warmth and sense of humor. And I was in awe of her writing. But I had no idea that she had ever struggled with mental illness, herself.
Don't Touch is a beautiful portrait of a young woman's struggle with anxiety, Obsessive Compulsive Disorder (OCD), and the fear and longing to connect with others. Written deftly and with deep empathy by an author who has obviously owned her own experiences and used them to create something that has the power to help countless others.
Summary: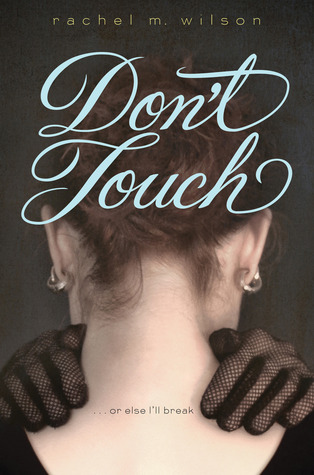 Caddie has a history of magical thinking—of playing games in her head to cope with her surroundings—but it's never been this bad before.
When her parents split up, don't touch becomes Caddie's mantra. Maybe if she keeps from touching another person's skin, Dad will come home. She knows it doesn't make sense, but her games have never been logical. Soon, despite Alabama's humidity, she's covering every inch of skin and wearing evening gloves to school.
And that's where things get tricky. Even though Caddie's the new girl, it's hard to play off her compulsions as artistic quirks. Friends notice things. Her drama class is all about interacting with her scene partners, especially Peter, who's auditioning for the role of Hamlet. Caddie desperately wants to play Ophelia, but if she does, she'll have to touch Peter…and kiss him. Part of Caddie would love nothing more than to kiss Peter—but the other part isn't sure she's brave enough to let herself fall.
From rising star Rachel M. Wilson comes a powerful, moving debut novel of the friendship and love that are there for us, if only we'll let them in.
Review: 
This is a beautiful book. It brought tears to my eyes several times. It sent chills down my back. I recommend it to everyone just because it is really well-written, perfectly paced, and ultimately heart-warming. We know from the first chapter what Caddie struggles with and how it drags her life down and keeps her from doing what she really wants. The backstory of her parent's divorce is flawlessly woven in, and her problems get worse and worse before they ever show signs of getting better. It is a brave book–it never flinches away from the real darkness in its portrayal. Yet somehow Caddie herself is beautiful enough and what she wants is hopeful enough, that the reader is never dragged down into too dark a place, herself. It is a lovely portrait of a young woman's struggle to connect, which anyone can relate to.
But here's why I think it's an important book. It shows that someone can have the thought, "I'm crazy," and still be OK and lovable. It shows that someone can struggle with severe mental illness and still be lovable. And it closes the gap between the "mentally ill" and other people. Human creatures are complex and we each deal with stress differently. Don't Touch shows how one person deals with stress and pain, and it realistically explores how unique and metaphoric our experience of grief is. Caddie's OCD belief is that she will literally break if someone touches her. Because she emotionally broke when her father left and didn't touch her. So she becomes untouchable.
It also shows that we don't need a degree in Psychology to help someone who is struggling with a severe mental illness. We just need to love them enough to learn to "read" the pattern behind their behaviors. But it also shows that even if someone struggling with a mental illness has the love and support of others, she ultimately still has to take responsibility for herself. Friends, family, therapists, lovers, drugs, can all help, but the person who's struggling ultimately has to decide that she wants to get better and to take those first steps. I think this is a brave and empowering stance that sometimes gets denied.
I would recommend this book for all teens (and adults, really). Those who know nothing about mental illness will learn something that might help them with people in their lives or will create empathy by making them more aware of how others struggle. And they will probably see something they recognize in Caddie's fear of following her dreams. Those who do know something about anxiety will see that they can choose to move towards health, and they will see what that journey looks like.
Stay tuned for an interview with Rachel next wednesday. And, again, the person who comments most this month will win an ARC of Don't Touch.